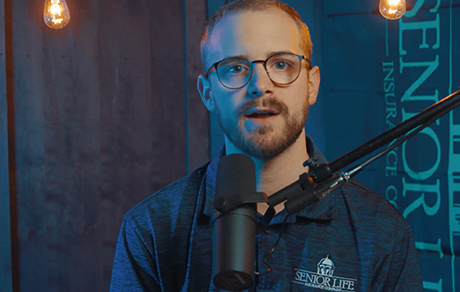 Senior Life Insurance Company has promoted Tallahassee resident and native, Cayden Ledford, to Director of Marketing.
Ledford joined the Senior Life family in February 2021 as a graphic designer and will now be responsible for spearheading Senior Life's efforts to continue to update their brand as they have become a major force in the final expense life insurance industry with just recently being named one of the top five fastest growing, yet steady-growing, life insurance companies in the nation.
Ledford started his full-time career in design and marketing as Creative Director at Restoration Place in Tallahassee in 2013. In this role he discovered a serious passion for not just design and content creation, but communication overall. This led to diving deeper into branding and brand strategy. He has also had his own freelance branding and design business which gave him the opportunity to serve other businesses both locally and nationwide.
Ledford brings with him experience in almost every industry, from non-profits to health and fitness organizations and even online content creators. He says, "After running my own design business I realized I really wanted to work somewhere with a consistent vision and mission. Freelance work had me bouncing around different clients and different industries, and I never felt like I got to do the kind of work that made an impact over time. It's been amazing getting to help shape this brand and do work that is having a real impact, not only on the company itself, but also on the customers we serve and agents we work with."
Senior Life Insurance Company (www.seniorlifeinsurancecompany.com), founded in 2000 by Ron Powell, has been recognized as one of the fastest growing final expense companies in the United States. Headquartered in Thomasville, Georgia, employing over 200 home office employees and having over 6,500 agents in 40 states plus the District of Columbia, Senior Life offers final expense life insurance to anyone ages 0-85. Senior Life's sole mission is to help prepare families for the high cost of final expenses.
If you would like more information about this topic, please call or email Marsha Twilley at 229-221-7665 or mtwilley@srlife.net