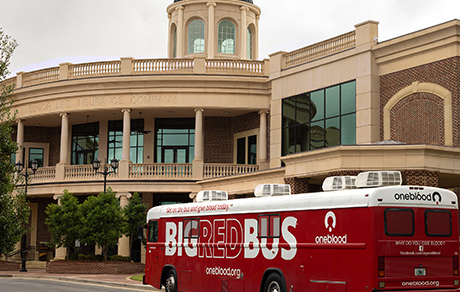 Last week employees at Senior Life gave blood when the Big Red Bus pulled up and spent the day outside the home office in Thomasville. "Senior Life has made it easy for employees, who number over 200, to give back to the community," said Helen McElder, Assistant Human Resources Director.
"It made me feel like I was saving lives and helping others, and all I had to do was step right outside our home office door. It was convenient and easy to give, and I appreciate Senior Life bringing the Big Red Bus here so that I could easily give back to our community," said Stephanie Hatcher, Corporate Event Coordinator.
Amazingly, each whole blood donation has the potential to save up to three lives. Givingblood.org explains that blood is needed every two seconds; about one in seven people entering a hospital needs blood; blood is always needed for treatment of accident victims, cancer patients, hemophiliacs and surgery patients; blood cannot be manufactured; and only 37% of our country's population is eligible to give blood, and less than 10 percent of those who can donate actually do donate annually.
Sonia Serrano, Senior Life's Leads Coordinator, shared, "I love to donate blood because I know it not only benefits children with cancer who are going through chemo, but also now with the pandemic, it helps anyone fighting for their life. Senior Life gave us an easy opportunity to donate blood, because they came to our job site and in less than 30 minutes I was in and out. Just by Senior Life organizing this blood drive with One Blood I know they care about giving people like me who want to donate, but who can't get away from work, the opportunity to do it. Having the convenience of having OneBlood come to our place of work is awesome!"
If your company is interested in giving your employees this opportunity, contact OneBlood in Thomasville at (229) 228-9980.
Senior Life Insurance Company (www.seniorlifeinsurancecompany.com), founded in 2000 by Ron Powell, has been recognized as one of the fastest growing final expense companies in the United States. Headquartered in Thomasville, Georgia, employing over 200 home office employees and having over 6,500 agents in 40 states plus the District of Columbia, Senior Life offers final expense life insurance to anyone ages 0-85. Senior Life's sole mission is to help prepare families for the high cost of final expenses.
If you would like more information about this topic, please call or email Marsha Twilley at 229-221-7665 or mtwilley@srlife.net