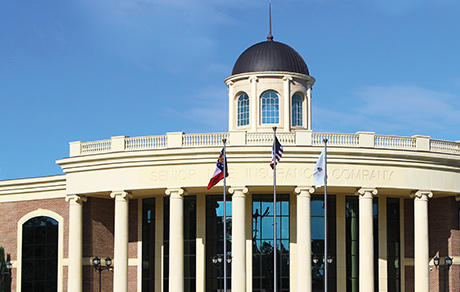 Born and built in Thomasville, Senior Life Insurance Company has now been recognized as the 5th fastest growing, yet steady-growing, life insurance companies with less than a billion in premium in the years 2015 to 2020, in the nation.
This recognition by Life Annuity Specialist is a huge accomplishment for Senior Life, whose growth, even through the pandemic, has been an amazing feat and a true win for our area. While other companies were struggling to stay afloat in 2020, Senior Life increased their sales 32% over the previous year. When other companies had to adjust their business or close their doors, Senior Life has continued to thrive.
They came in at number 5 with 111% growth over the last five years with just life insurance being written; while the other companies in positions 1-4 include the annuity business they write. This simply shows how well Senior Life is really doing as they have stayed laser-focused on their mission to help prepare families for the high costs of final expenses.
CEO and President, Ron Powell, shares, "I'm so proud of how great we are doing as a company. It's a tremendous accomplishment to be number five in the nation. To be located in such a small community and to have achieved such records, just makes me proud of my entire team. My executive team, home office staff and field staff of over 6,500 agents keep our mission in mind every day. We help families on the most difficult day of their lives. That's what we're about, that's what we do, and that's what we'll continue to do."
Senior Life Insurance Company (www.seniorlifeinsurancecompany.com), founded in 2000 by Ron Powell, has been recognized as one of the fastest growing final expense companies in the United States. Headquartered in Thomasville, Georgia, employing over 200 home office employees and having over 6,500 agents in 40 states plus the District of Columbia, Senior Life offers final expense life insurance to anyone ages 0-85. Senior Life's sole mission is to help prepare families for the high cost of final expenses.
If you would like more information about this topic, please call or email Marsha Twilley at 229-221-7665 or mtwilley@srlife.net